DAYS ONE & TWO (A)
Kay, Campers, and The Google

DAY ONE – Tuesday, July 10
So I'm off on my road trip, Day One is in the bag and Day Two is half over. (Is that a pessimistic phrase?) It actually sprinkled some rain on the way, and I was grateful for the cool drive. I'm expecting a very hot summer trip.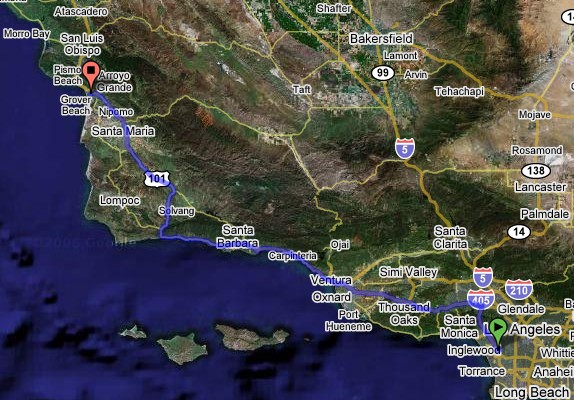 I started the day early, got on the road at 8am, and drove out of LA up the 101 (which is, at parts, a coastal route). I hit Pismo Beach just before Noon, and had lunch with MySpace friend and sister-in-Christ, Kay. That's not her real name, I mentioned her in my last blog. We had a good lunch at a Thai place, both of us having a sweet/spicy chicken salad called Yum Yai. This woman is smart and attractive (she resembles country singer Sara Evans). It was great to connect with her in person and have another long conversation about our faith. (We've talked on the phone a few times, the first time for about 2 hours. And for those of you who know me, NO, I didn't monopolize the conversation. This woman can talk!) I forgot I had my friend's digital camera with me, or I would have had the nice hostess at the Thai place snap our picture.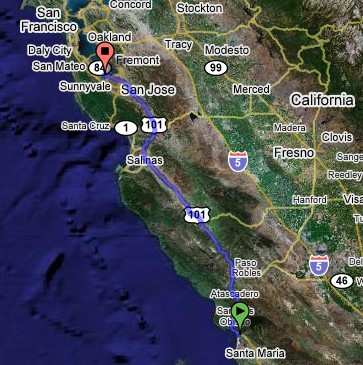 I continued up the 101 into San Jose, and into nearby Palo Alto, CA. to visit my friends Jim & Susie. Jim and I met in college at USC, but I haven't seen him in a few years since he moved to middle California. He works for Microsoft, and he and Susie moved here after their first child was born.
Right now, I am staying in STYLE in a camper in the back driveway of my friend Jim & Susie's house. This thing has a queen bed, a couch, an easy chair, 2 TVs, shower, sink, toilet, and full kitchen with sink, stove/oven, microwave, and fridge/freezer. Wow. This is nicer than a hotel room! It's like a suite! Jim is lobbying to get me to get a local radio gig and move into the area, even enticing me with being able to stay in the camper for a period of transition. It's very tempting. Or maybe I'm just dreaming of that part. Check it out: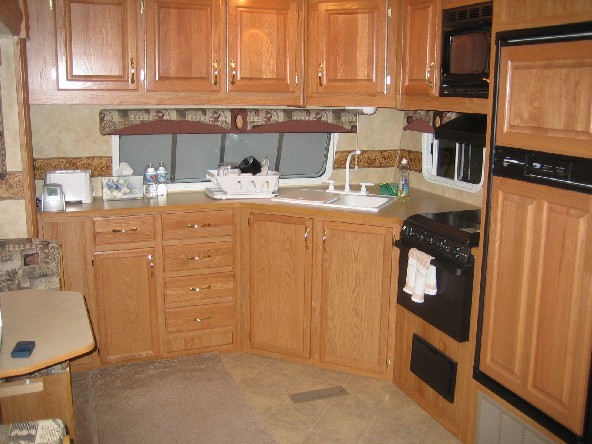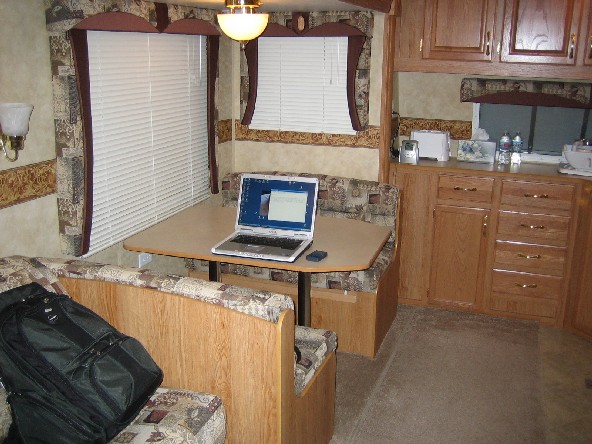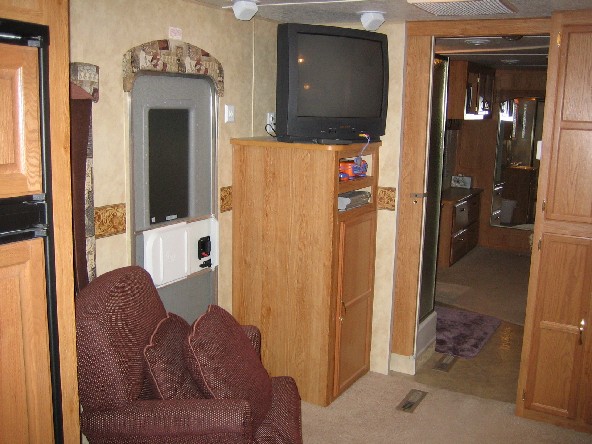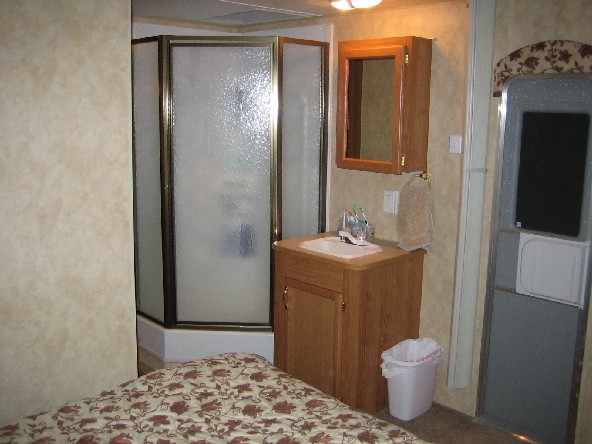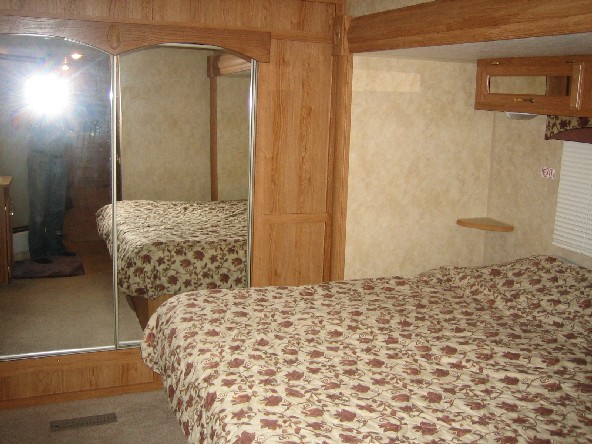 Palo Alto is right next to Mountain View, home headquarters of Google. Tomorrow we're going to go walk around the Google campus. As I was passing Jim's Microsoft building on the freeway, I turned on my laptop (the traffic was safe stop-and-go) to glance at the directions to his house. Turns out, Google has free GoogleWiFi ALL OVER Mountain View. It was kinda crazy that I could get a full wireless signal when stopped on the freeway. It doesn't work well when moving though...so don't try that. Just drive. (Makes one wonder if we will soon have a DWW designation... Driving While Websurfing. Talk about "mobile web!" Yikes.) We went to dinner at a good BBQ place. Jim and Susie have two children, James, Jr. (Jimmy, 3) and Corinne (Cori, 1). Jimmy took a while to warm up to me, but after he got his pajamas on, he wanted me to have the privilege of giving him the piggy back ride to bed. We didn't get to spend much time together, but he was all about playing with this new visitor "Richy." It was very cute. Jim and I stashed ourselves in the camper for a few hours, catching up some more over a card game and a very yummy blueberry beer. When I drink, which is very rarely, I only have one beer (or two at max, because when my metabolism slowed down after college, I became a lightweight). This beer was very good, but I still only had one.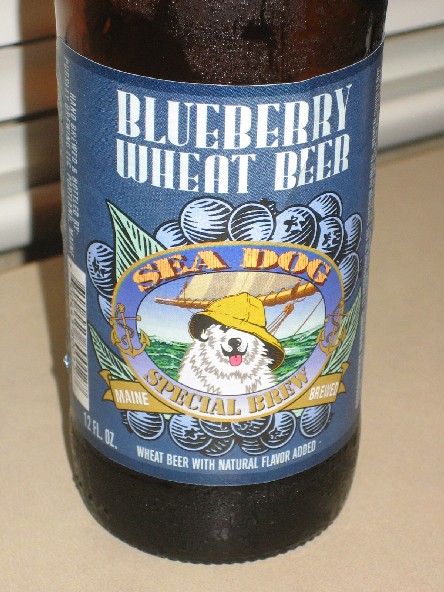 DAY TWO (A) - Wednesday, July 11
It started raining in the middle of the night, and I woke just long enough to hear it start. It was kind of a nice sound actually, and I slipped immediately back to sleep. I slept well, which was good. Jim delivered a towel for the camper shower in the morning, even though I had my own. I read some Word and cleaned up, then went in and chatted with Susie while playing with Jimmy and Cori. Then Jim and I walked Jimmy to school, about 5 blocks away, a nice walk.
Jim and I went to breakfast at a nice little breakfast/lunch bakery. Very good chicken breast and eggs plate. As I was finishing, Jim said I should have taken a picture of it, and all the other meals I'll have in diners across the country. Funny idea, but I doubt I can be that diligent.
We drove to a local 7/11 that is getting lots of tourist traffic because of its makeover as a Kwik-E-Mart for the Simpsons movie that's coming out. It is one of many around the country. It was cute and clever, but also a kind of sad realization of the things that fascinate us and how marketing is getting bigger and bigger in both concept and execution. There was plenty of stuff to take pics of, but I limited myself to the outside and the case of Sprinkles Donuts that Homer loves so much.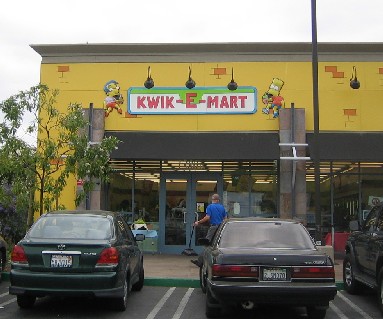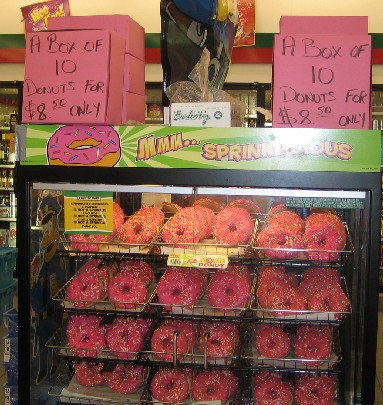 We then went to the Google campus. This area of the country is huge for the tech industry, and Google is growing into a megamonster of modern companies. They have a large "campus" with multiple cafeteria restaurants that cook up free food for Google's employees at lunchtime. There are unlocked bikes parked in various places that employees can just take to ride to other parts of the campus. It's supposed to be a very relaxed and fun environment to work in. They DO have security roaming, and are not thrilled with tourists. Jim and I took a quick walk around the central area where there is a volleyball sand pit and a T-Rex dinosaur skeleton the owner bought. They dress him up now and then. Right now, there are a bunch of pink plastic flamingos placed in front of him, making it look like he was chasing them. I snapped one quick pic of it.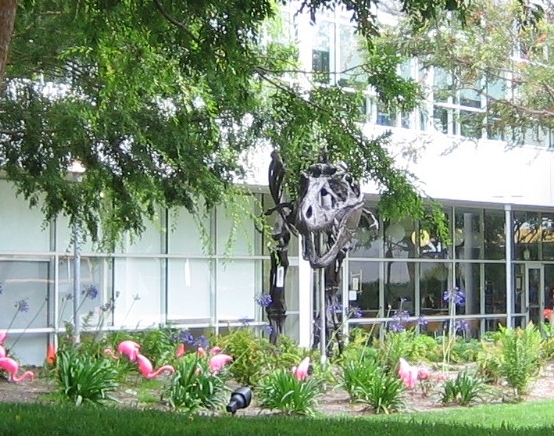 And then a blue-shirted woman (security) began following us so we casually excused ourselves from the property without fanfare.
Later this evening, I'll be visiting some friends in San Jose for dinner, and will blog about them later tonight or tomorrow. I should have pics of both families tomorrow.