DAYS THREE & FOUR
Scott and Humility

DAY THREE - Thursday, July 12
Disclaimer: Not all of my blogs for the trip will be as long as the recent ones (but it's me, so who am I kidding here?)…nor will I be blogging about every single day. But in the first week I hit so many new places and experiences, and have actually received requests to keep people VERY posted…thus the detail.
Anyway, I woke and took pictures of Jim and Susie and the kids before I left: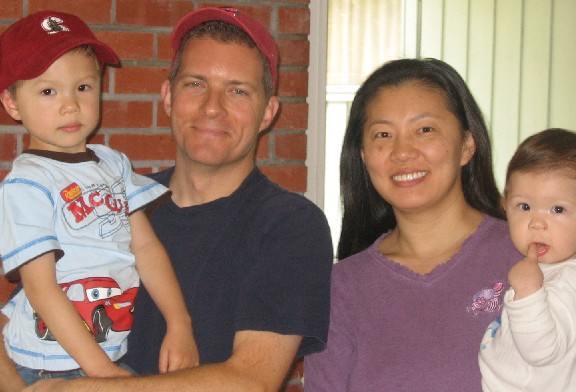 I drove to Fry's and got my stereo installed. Yay! Full iPod functionality. I had my route planned, but accidentally missed one of my exits because I was listening to a podcast sermon and went about 30 miles out of my way through Sacramento. Ooops.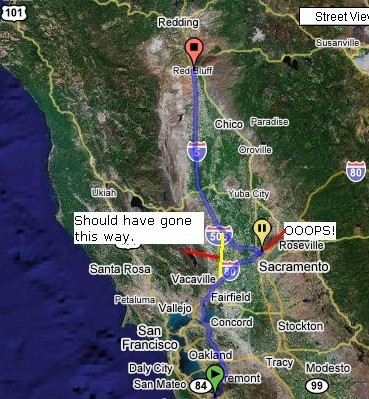 I figured I would stop in Redding for lunch, but I was getting hungry a little early. I saw a Valero gas station (they usually have good prices) so I decided to pull off for a fill-up and food.
As the gas was pumping, I walked around to move my cooler to the front seat and rearrange a few things. A tough and sorta scary-looking guy sat against the wall with a sign that said Redding. I instantly wrestled with whether to take him, and went ahead with the process of putting my cooler in the front seat...I pulled out a cold water bottle, and then went to the trunk to put 4 more bottles in. I was making the decision without prayer, just going ahead and doing it, a sure sign to me that I was trying to avoid the moment and the opportunity to minister to someone.
My shame finally melted my heart, and I turned to him and said, "Redding?" He nodded and I waved him over. I started shifting the cooler back to the backseat and pulled my laptop backpack off the passenger seat floor to make room. I reached into the cooler to get a water bottle for him, but knew they weren't cold yet, so instead gave him the cold one I'd already pulled out for myself. He put his pack on top of the cooler, and got in. I introduced myself and he said his name was Scott. I asked him why he was going to Redding and he said he was headed to Arcada, about 125 miles west of Redding on the coast, north of Eureka. The 299 highway would take him out there.
At my mention of the Lord, he said he had just said a little prayer before I pulled up, had been there since 6a. He was going back to Arcada for a job barn restoration which he said paid $25 an hour. Scott said he was raised Seventh Day Adventist and was back visiting his family in New Hampshire and they pushed him out because of how he looked. We talked openly about how people had treated him that day and I openly expressed my mental wrangling to pick him up, finally sharing with him that I attributed it to the Lord to reach out to him through me. We talked about tattoos and the Lord, the grace of people and lack of compassion, the heat, etc.
I offered when we got to Redding that we could eat lunch together, but he said he only eats breakfast and dinner, and tries to fast during the day. I respected that, and thought to give him $20 when we stopped. I told him about my trip and blog. We pulled off the freeway and found exactly what I was looking for...a Subway shop with a Starbucks next to it (for wi-fi). We got out, I gave him another bottle of water for the road, and he consented to a pic for the blog: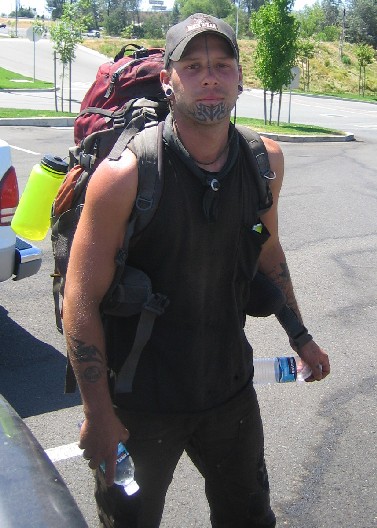 We shook hands, I wished him well, and he was on his way. I should have prayed with him, but at least I can pray for him. It wasn't until I pulled out my wallet in the Subway to pay for my sandwich that I realized I'd forgotten to give him the $20. My absentmindedness bothered me, but I prayed for his protection and that the Lord would provide for him in other ways, and touch others with a heart of compassion to help him; to trust in God's protection and not judge Scott for the way he looks. He did for me.
I finally hit Oregon at 5:20pm, my first time in the state. The drive up I-5 is really nice crossing the state line. The drive towards the coast on Highway 42 was gorgeous and pleasant, serene. I began to get driver's arm sunburn, so it was nice to get onto the 42 where there was much more shade and the weather got cooler as I was directed toward the coast. I hit Myrtle Point, a small town with Highway 42 cutting through it. I checked into my motel (it was a nice little room), and drove a few blocks up the street to a diner for dinner, returned to my room and read myself to bed.
DAY FOUR - Friday, July 13
I slept like a rock. I woke and read and typed, then got on the road. I felt blessed that the mosquitoes in the room were stuck between the window and the curtain most of the night. The motel was right next to a huge field with ponds in it…a beautiful breeding ground for the little bloodsuckers.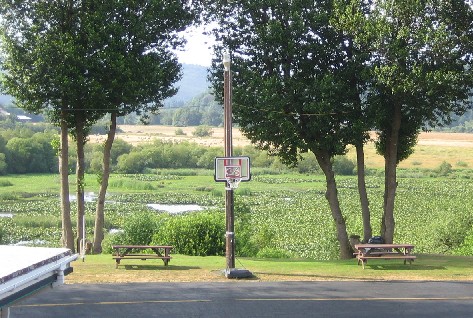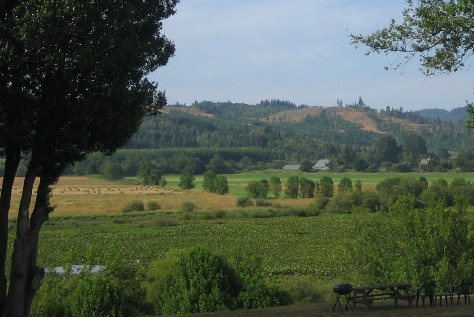 I drove through Coos Bay and up the beautiful coast of Oregon, passing through some neat small towns on the way.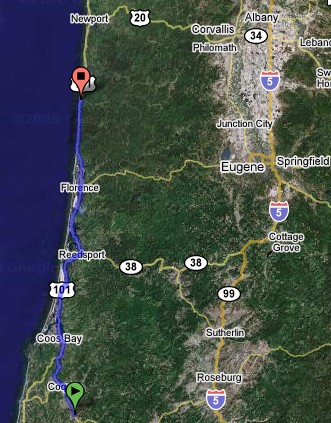 I stopped and took a picture of this pretty lighthouse. It took a few pictures to time it right to catch the light. I would have driven down to it, but it charged a day-use fee for the beach and parking below it, and I felt I should keep moving.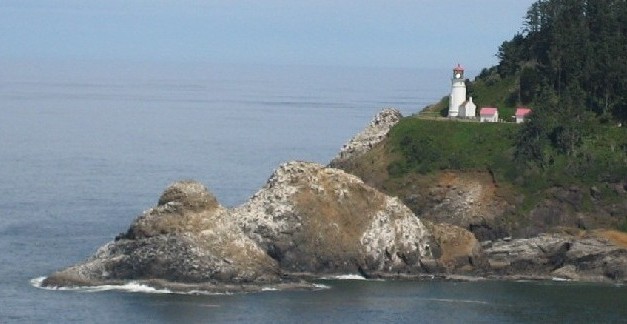 I stopped in Yatchas for lunch, and my waitress bugged me. She was barely friendly, but not mean. Just short and direct…not impolite, but not polite. And it bugged me that it bugged me. I'm so used to a customer service oriented lifestyle. I like to eat out and think the servers should be pleasant and attentive. When I don't get that, it irks me. But recently, my thought process has been changing.
As I'm driving around this beautiful state I'm continually impressed by our God, and am being deeply humbled by my outlook on Him and other people. I am too critical and too quick to see fault in people, like this waitress. A book I'm reading on humility (called Humility: True Greatness by C.J. Mahaney...it's AWESOME) made me even more aware of that. I read a section about looking to find evidences of grace in others. I had to remember that we're called to love everyone, even those that aren't pleasant to us.
On the way to Portland, I stopped for a bite to eat with a new MySpace friend, and we had a great chat. It was a nice little town. This sign cracked me up. In Los Angeles, there's something called the California Rolling Stop, in which folks barely brake and roll right through a stop sign, especially when making a right turn (which is, nevertheless, quite illegal). So this sign reminded me of that, because I thought, "that's standard in L.A."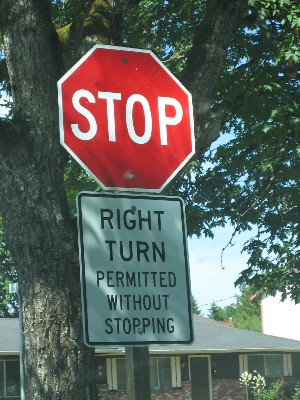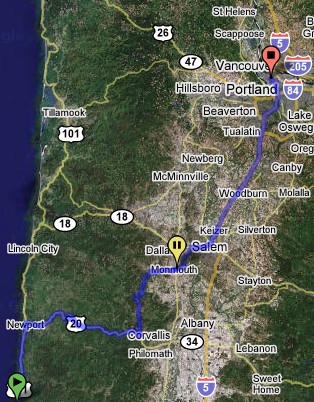 I arrived in the evening to my hosts for the night, Sam & Fiona Thompson. Sam is my boss at Premiere Radio, and offered his couch-bed for a night. He and his charming wife have a son, Dominic (I hope I'm spelling that right). Sam and his father were working on a new back shed, so I got the quick tour of the house and helped them put up some 2x4 shed roof beams. Their house is a project in progress, as they are fixing up and restoring it in parts inside and outside. Seeing some of their before and after pictures already, they've done a wonderful job so far. Sam does much of the work, Fiona has almost all of the vision.
In the morning of Day Five (Saturday), they were leaving for a wedding up near the Canadian border, so we left at the same time and I snapped this photo: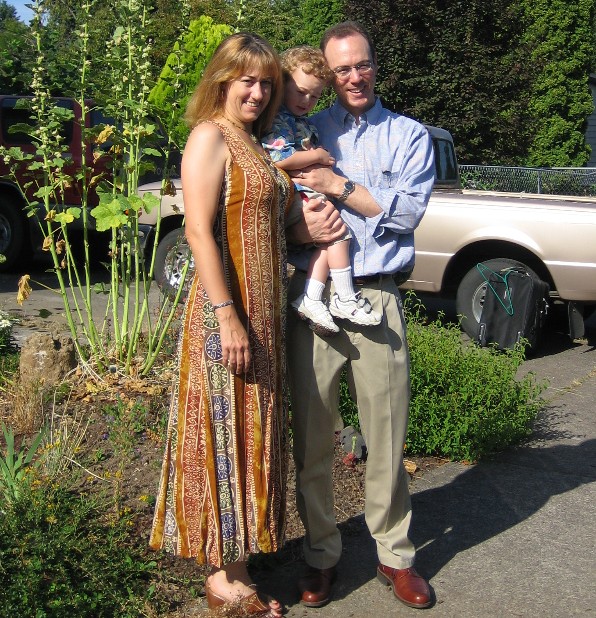 Next: Multnomah Falls, Seattle, and Weasels!