DAYS FOURTEEN AND FIFTEEN
UTAH!

DAY FOURTEEN – Monday July 23
Jennifer's roommate, Leah (at least I think I'm recalling her name correctly), came in from a weekend hike early in the morning. She navigated the sleeping forms on her floor (me and Wes) and crawled into bed herself, only to get a couple hours of sleep before she had to wake and go to work (it was Monday, after all). Wes and I woke, showered and talked about breakfast. Jenn was still marginally asleep, but I didn't want to leave her behind, so she woke long enough to tell us to go without her.
Wes and I left Mammoth Hot Springs and Yellowstone to venture into the small town of Gardiner, where we found a breakfast buffet. The selection was rather lacking, but it had enough food that it didn't matter. The waitresses all looked European to me, like they could all be sisters. I said to Wes that I thought they were Romanian, and he guessed Brazilian. We explored other options for a minute and bet $1, me taking Europe (and targeting Romania), and him taking South America and targeting Brazil. The next time one came by we asked her where she was from. Bulgaria. I win. (And was very close, seeing as Romania is a northern border of Bulgaria...not that I knew that before I linked up this map.) She explained that there were many folks from Bulgaria in the town working for the summer. Wes still owes me a dollar.
When we returned, Jenn and Leah were side by side in Leah's bed, having girl-chat, and Leah was dressed for work. It was shortly after we got back that she had to leave. Wes asked if I had seen her feet, and I looked at him like, "What does that mean?" It turns out, Leah was on a hike a few years back, and her guide had leapt off a cliff to a spot below (or something like that). When Leah followed, she landed wrong. So wrong, in fact, that she broke her back and tore her feet nearly off. Yes, off. They had to reattach her feet (Wes was referring to the scars around her ankles that could still be seen) and she spent a year or so learning to walk again. WOW. (If I have the details of this wrong, Jenn will correct me in a comment...eventually.)
So I was in a room with three people who had back surgery; I felt blessed to be the odd man out of that situation. Wes took this moment to suggest the ridiculous: that while down in Colorado I should "try a fourteener." Now, that isn't crude slang for inappropriate interaction with a minor, it's slang for hiking a mountain that reaches to 14,000 foot elevation. Of which there are many in Colorado. I asked him, trying to be clear, if he just suggested I should HIKE up 14,000 feet. He affirmed that was his suggestion. I told him there was a very unlikely chance of that. The concept of walking any more, especially 14,000 feet up, was one I couldn't grasp at the moment.
We packed up, getting ready for me to leave and for Jenn to take Wes to the airport in Bozeman, Montana. Just as I was hugging Jenn goodbye for the second or third time, it started to rain. A good feeling, because I figured it would cut the heat some. I had a drive down through the park and decided I would go to Old Faithful. You can't go to Yellowstone for the first time and not see Old Faithful, right?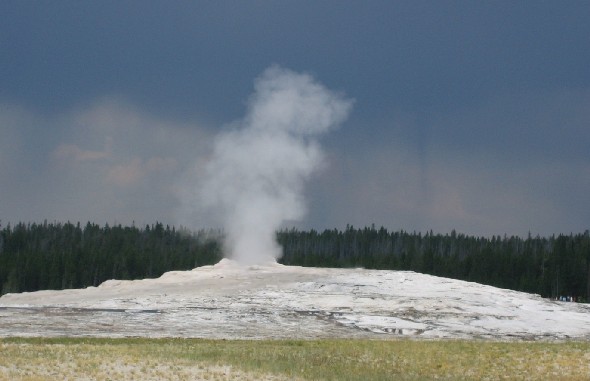 Okay, that's done. No, really, I didn't have much desire to see it. But I figured it might be a neat experience if the timing was right. Old Faithful blows anywhere from every 65 minutes to every 90 minutes, give or take 10 minutes, depending upon the duration of the previous blast. I arrived about 10 minutes after it had blown, so they were saying it would be another hour and 40 minutes until the next release. I snapped a pic and said, "See ya." I wanted to get moving, I had other states to be in. And like many folks have said, while it's pretty cool to see it blow in person, look at a picture or a postcard and you get the idea.
On the way out Yellowstone, there were three traffic backups, where people would pull over to the side of the road to take a picture of a bear in the trees, a buffalo (bison, same thing), or elk. I did a drive-by of this bison.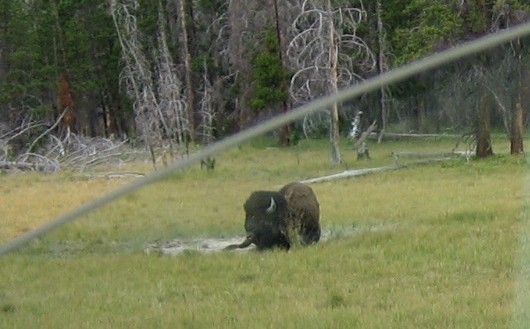 I drove down through the Grand Teton National Park which was gorgeous, and through Jackson, Wyoming, where I stopped for lunch. Wes had mentioned how elk shed their antlers, and that some cities have artwork made of them. While going through Jackson, Wyoming (I think) I snapped this arch.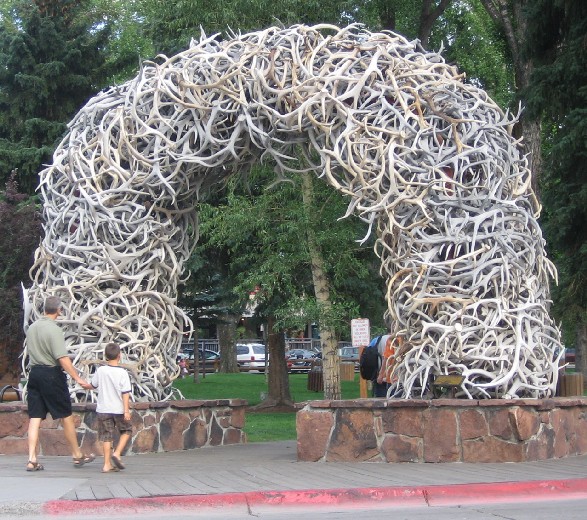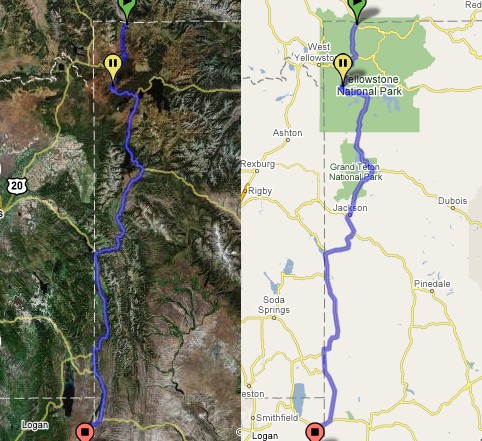 Eventually, I arrived at my destination in Rich County, Utah, the home of my friend, Mark, who around MySpace is better known as Mr. Noah Tall. Mark is a Deputy Sheriff in Rich County, comprised of a bunch of small towns in northeast Utah where Bear Lake is. We met online about four years back on some message boards, and have kept in contact through this fancy internet contraption since. Mark was raised LDS (Mormon), is now Catholic, and we have had many great religious discussions over the years. Mark is one of those guys who can have a discussion on differing interpretations of the bible and doctrine, and always remain respectful of another's views. Humorous, eloquent, personable, and intelligent, he is a good man. He is a man I have grown to love (it didn't take long) and his slice-of-life blogs are wonderful. (Check out his blog.)
I arrived at Mark's in the evening. His kids were all away at work, and when I came in he was web chatting with a MySpace friend. Mark and I had never actually met in person, so he signed off of MySpace and we got to chatting about my trip, people we mutually knew online, and of course, religion. We talked about music (Mark plays the guitar), laptops, blogs, and his kids. He was in contact with them on the phone, because son Asher was at work, and son Max was supposed to pick him up. There was also daughter Ally, who was going to spend the night at her mom's. Turns out they all spent the night at their mom's with a plan of coming to Mark's in the morning, so Mark and I talked into the night.
Ally had been kind enough to let me use her room during my stay, so I took a picture of her cute bed before I messed it up.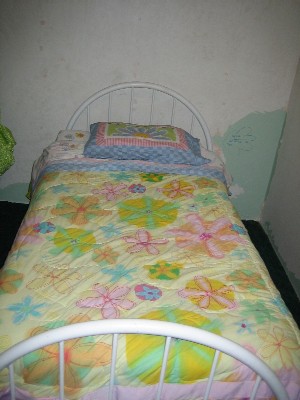 DAY FIFTEEN – Tuesday July 24
I slept well and woke hearing the kids come home. I got up and snuck into the shower first, and then went into the living room to introduce myself. Ally was 'sleeping' on the couch, so I introduced myself to Max and Asher. Mark has 5 offspring, Chris (who lives in Texas), Jon (who is 21), Max (17), Asher (15), and Allyson (12). Max is Mark's 3rd oldest son...and since Mark often refers to his sons by a number, in a humorous and affectionate way, Max would be his "Number 3 Son." Asher would be Number 4. And of course, Ally is his Number 1 girl.
We all hung out for a bit, and then went to eat in Evanston, Wyoming, about 30 miles away, where the Wal-Mart was. Mark's Wal-Mart trips are sorta famous on his blog, so I was kinda psyched that I got to be part of one. Ally was tired from being up too late the night before, so she stayed and napped.
Asher works in a steakhouse. He was hired to wash dishes, but has expressed an interest in cooking, and may pursue that to become a chef; so his employers encouraged him: they hired another dishwasher and have Asher helping to prep the food. He takes his job seriously, which is good to see from a teenager. While we were walking around Wal-Mart, I suggested he make us all breakfast the next morning. He was game and asked us what we wanted. I said, "What are you making?" which set him to thought, and he wandered off, returning with some Jiffy brand pizza dough mix. He said, "I think I'll make scones." Interesting. "What are you going to put in them?" He disappeared again, returning with strawberries. Excellent.
When I found out Asher was a future chef, I asked him if he'd seen Ratatouille, the new Pixar movie. He said no, so I suggested that we go see it while I was in town. Mark had to work that night and the next night, and I was planning to go on a ride-along with him. Asher also wanted us to eat at the steakhouse one night so he could help prepare our meal. A plan quickly fell into place: while Mark was at work that night, cruising Rich County and making the streets safe, I would take his brood to dinner and the movie. The next night, I would go on the ride-along with Mark, and we would have dinner at the steakhouse. Genius.
A flaw in the plan was that Ratatouille was not playing at the cinema in Evanston (again, the nearest movie house). Mark and the kids were big Harry Potter fans (they had 3 copies of the recent final book and were in the process of reading them...though Max had finished) so I suggested we see the newest Potter movie instead. Asher and Max had seen it, but were willing to see it again. Ally hadn't seen the last 2, but she was game to see it anyway. I felt a little conflicted making the suggestion, because I'd been torn on whether I should see any more of the Potter films. I've been cutting certain movies and content that is not honoring to God out of my life, but it's a process as I sort through what I feel is or isn't pleasing to Him, and what I'm so used to seeing. For the time being, I was still willing to see it. (I'll revisit the Harry Potter thing in another blog, as I later felt convicted that I made the wrong choice in going and taking the kids. [ Edit…and have since reconsidered that as well. ])
Yet, for the purpose of our night, we had a very good time. Mark left for work, the kids and I hung out, and eventually piled into my car for the drive to Evanston. My iPod was plugged in, and I said we could listen to whatever they wanted. Max turned it on and it was a Christian worship mix, and he wasn't familiar with many of the artists. All Mark's kids play instruments, mostly piano. Being Catholic, they aren't familiar with a lot of the Contemporary Christian music out there (neither was I just a few years ago). Max dialed up a Michael W. Smith version of "Agnus Dei" (Latin for "Lamb of God"). When that was done, I asked is he was familiar with the song "Awesome God" and he said he was, so I played "He Reigns (The Medley)" by Kirk Franklin, a rhythmic, Spanish-influenced version. Max liked it, so I played a few other cuts for him, while Ally and Asher goofed around in the backseat. They were trying to have window races, counting down 3-2-1 and lowering the power windows to see who could get them down first. I messed with them by using my window lock button, which took them a minute to figure out. Then I helped them countdown some races up and races down. It was fun.
We decided to eat at Sonic. Mark said he was not a fan, and I'd eaten at one in California a couple times. I'd never been really impressed by anything other than the tater tots, but was willing to give it another try. We ate inside, and made fun of the establishment's design. If you're unfamiliar with Sonic, most of them are drive-ups...not drive-thrus, drive-ups. Each parking spot has its own menu and call box to place your order, and your food is brought to you to eat in your car or take with you. A few of them have inside dining, like this one. You sit at a table, with a small version of the menu posted on the wall next to a phone with a red button. When you're ready to order, you push the button and wait and someone from the back comes on to take your order, and your food is bought to you. What made this so funny was that at a table for four, the menu isn't big enough for two of the people on the outside to see. We started brain-storming out loud what they needed to remedy this, like giant menus posted on the other walls, or placed on the table. What also cracked us up was the quality (or lack thereof) of the order phone. It was hilariously HORRIBLE, with loud static noises; I had to repeat our order a couple times and had to have the lady repeat it back to us a few times. It was classic, worse than the worst examples of the outside drive-thru boxes.
We went and saw the movie, and it was pretty good. Not great, kinda slow compared to some of the others, and much darker then the previous films (which was to be expected as the characters get older).
We returned to the house and hung around until Mark got home. Asher prepared the dough for the scones so he wouldn't have to do it in the morning. Ally fell asleep on the couch while Mark and I talked, and then I went to bed. I was looking forward to waking up and eating those scones, so I went to bed. The day had been a blast.