DAYS SIX, SEVEN, AND EIGHT
Seattle and Weasels

DAY SIX – Sunday, July 15
Sunday morning in Seattle. My friend Ryan and I woke and went to his church, where we met up with Nick (who is an elder there). Nick gets much teasing about this, because he's our age...and elder at 38-ish? Yup. The church is Presbyterian, and they were doing some remodeling. I got to meet Ryan's parents, brother, aunt, and a few cousins. It was a nice time to share with them, and I sat in the second row with Ryan's family. We sang hymns to the Lord; I like hymns, but I'm not used to them, and it was a nice change to sing that way. The pastor, Paul, was in Israel on an archeological dig, so the pastoral intern, Micah, gave the message. He is a student at Fuller Seminary in Seattle, so afterwards I approached him and chatted with him, and got his email so I could send him a note and ask him some questions about his experiences there.
Ryan and I returned to his place and then went shopping, because Nick and a bunch of their friends were going to come over for a BBQ and to goof around. It was a good afternoon of hanging with the guys and eating a lot. Later, Ryan and I went to dinner at a very nice restaurant, called 13 Coins. It was a classy place, a little dark, with a counter that had high backed throne-like chairs that swiveled. We sat at the counter, and most of the food gets cooked in plain view right there. Ryan had a seafood dish with the request of no flour added to the breading, and I had a marvelous chicken parmigiana with cream sauce.
We talked about Ryan's health issues, and how he had to endure some serious trials a few years back. Ryan has Type 1 Diabetes, and in addition to that, has celiac disease, which doesn't allow his body to process wheat and certain grains that include a protein called gluten. You've seen gluten-free products on some shelves? That's why; some folks can't eat it, because it causes a reaction that damages the lining of the small intestine. Thus, nutrients aren't properly absorbed and it leads to a host of problems and wicked symptoms. It seems there's a link between type 1 diabetes and celiac disease, so that nearly 1 in 20 people with type 1 diabetes has celiac disease. And the symptoms are nasty in combination with each other.
I marveled at the many things Ryan has to cut out of his diet (pizza, beer, bread, pasta...and thus the no flour breading on his seafood dish), or have special versions prepared. (His mom made gluten-free brownies, and they were not bad; though, as a brownie freak myself, there was a distinct flavor and texture difference. Give me gluten any time.) Then I asked Ryan what it was like for him to discover the condition. He shared that it was a brutal process, and it almost killed him. The doctors had no idea at the time what was wrong with him, though he was struck with bouts of excruciating pain that would last for days. He was getting maybe 2 hours of sleep a night for months because of the pain, and losing weight like crazy because no matter how much he ate his body refused to process the nutrients. All the while, he continued to eat wheat without knowing, which just kept the cycle going. He lost so much weight he literally looked like a concentration camp survivor, his bones exposed under his skin.
Eventually, a lady from his church knew of someone else with some similar symptoms, and they figured it out. I don't know if you see the Lord at work in that, but I do. Within a few days of cutting wheat products from his diet, the pain disappeared and his life got back to normal. It took quite some time for the damage to his small intestine to heal, but with the healing the weight came back. Now, Ryan has adjusted to his life and diet living with these conditions, but it was strange that all weekend I kept suggesting foods and every time the reply was, "Can't."
We discussed how people didn't used to be lactose intolerant and need to eat gluten-free products, and how these are conditions that have come about in very recent decades. Part of it, of course, is because of how our food is processed and prepared these days, and all the extra chemicals put into what we eat to preserve it or improve its coloring or flavor or presentation, ad nauseum (pun intended).
I guess it helps me gain some perspective on what I eat, and I praise God that I'm not allergic to anything. But who knows when my body will determine that certain foods are no longer acceptable. I get heartburn and acid reflux in phases. I haven't yet pinpointed which foods could be causing it.
Ryan gave me some food for thought, pun intended.
DAY SEVEN – Monday July 16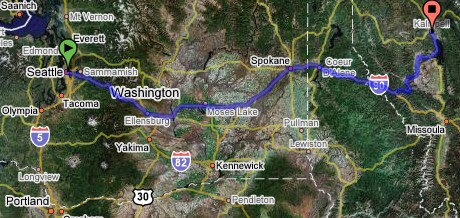 Ryan left for work the next morning, and I packed up and headed east across Washington, a beautiful drive at times. I crossed into the thin part of Idaho and then into Montana. It was almost as if the "Welcome To Idaho" sign was immediately followed by a "Welcome To Montana" sign. As a fan of the book and movie "A River Runs Through It," I've always wanted to visit Montana. I've actually considered learning how to fly fish. But so far I've not followed through on that. (What? Me not follow through on something? Shocking, I know. Completely out of character. Oh, shut up.)
Upon entering Montana, I saw a fireworks stand off the road. WHAT? I was stunned that a state this beautiful and full of flammable vegetation would allow fireworks. Seemed silly to me. I was destined for Kalispell, which is north of Flathead Lake and south of Glacier National Park. It is also far north of Missoula, where "A River Runs Through It" was based.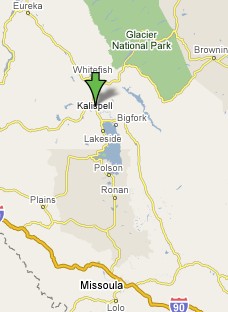 My friends Kim and Bill live in Kalispell, though I arrived a little late in the evening, it wasn't an issue because the sun doesn't go down until almost 10pm in northern Montana during July. Kimberly is a former firefighter and 911 operator, Bill is a former Sheriff's Deputy and K-9 officer. I played with his retired police dog, Duke, who speaks Dutch. Well, he doesn't speak Dutch, 'cause THAT would be something...he understands Dutch...or at least, he understands certain Dutch commands. I don't speak Dutch or understand certain Dutch commands, but Duke and I got along fine. Actually, Bill said he's never seen Duke take to anyone so immediately. Bill let Duke out of his kennel to run around the yard and play ball, and I called him over and carefully let him check me out, but he didn't seem too concerned about the process, he just wanted to play ball. It was fun, he's a character.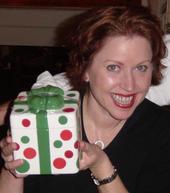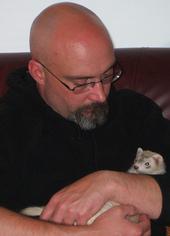 Kim and Bill also have other animal family members. There's Gary the cat, a very friendly, very mouthy, crackup of a feline.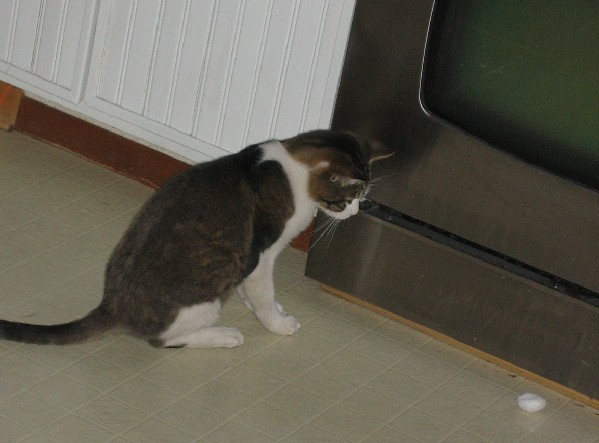 They have two parakeets (I didn't get their names). The birds had recently laid 4 tiny eggs, but the 'keets couldn't incubate them well enough, so they didn't develop. And then, there are the weasels. They have four ferrets, and they are adorable. I've always liked ferrets, and have always wanted one, but they need careful consideration as pets. They aren't like dogs or cats, they require research before you acquire one. (Pictures later, though you got a sneak peak at Hannah already.) Bill grilled us up some burgers and we chatted into the dark about various matters of spirituality. Bill is such a wonderful man. He is kind and adores his wife, Kim. He is intellectual and thoughtful, and capable of humor and silliness. Kim is a Christian, but Bill is still seeking his answers on matters of faith, and it is always fun to chat with him about spiritual issues. He is working towards a degree and had class in the morning, but that didn't stop us from talking on and on after the night decided to join us, to the point where we were talking on the back deck and could hardly see each other. Good times.
DAY EIGHT – Tuesday, July 17
Bill woke and went to class, and I got up a little while later. Kim and I chatted out on the deck during a beautiful morning and then prepared and packed up lunch for our day. When Bill returned, we drove to Flathead Lake and relaxed on the shore at a campground area, dipping into the refreshing water a bit, but mostly reading in the shade of some trees. The view of the lake was magnificent, and of course the pictures I took don't really translate. But here's one of the fantastic variation of colorful rocks just near the shore.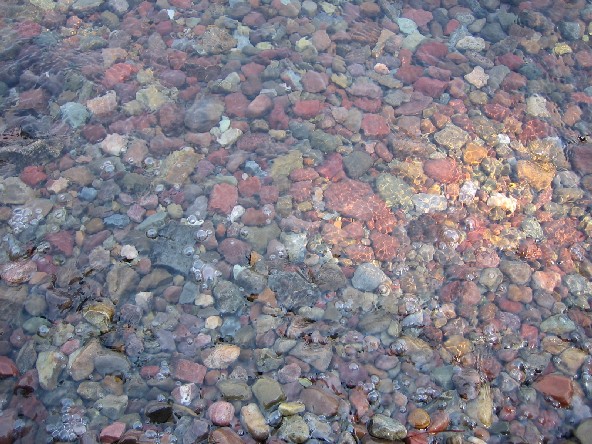 We continued driving around the lake the long way. The area up there is big on cherries, and of course, 'tis the season. So we stopped at one of the many roadside sorting houses that also have a selling counter and bought what were easily the yummiest and freshest cherries I've ever had. Continuing around the lake, we came to a bar where we loaded ourselves with fried foods of the cheese and chicken species. Decent friend cheese, yummy fried chicken. One of the barmaids was exceptionally cute, and we joked about me moving to Montana for that reason only. By 'we' I mean Kim & Bill and I...the cute waitress wasn't in on it. I could have done without all the nude pictures of women posted on the walls of the men's room. It's bad enough I have many memories of pornography I'm still trying to no longer remember, but trying to avert my eyes in there made certain men's room procedures a little more difficult.
As we returned home, there was the threat of rain, a welcome relief to the heat of the day. Bill called his sister, Anna, who worked for the local internet service provider, for some technical assistance getting my laptop to connect to his wireless router. Bill's mother lives across the street from them, and Anna was visiting, so she just came across the street and sorted it out, which was sweet of her.
Finally, the clouds decided to release their pent up frustration and lightning and thunder foreshadowed the rain. It had been a fairly hot day, so the rain was welcome to cool things down. Ferrets need to be kept under a certain degree of heat, and this provided some relief so we could release the weasels (that's not code for anything) and let them romp around the living room.
Let me introduce you to Russell, Bobby, Hannah, and Abigail Ping Ping (yes, that's her full name).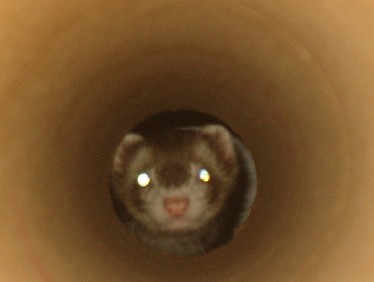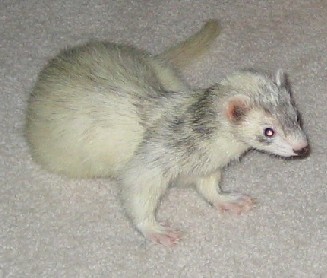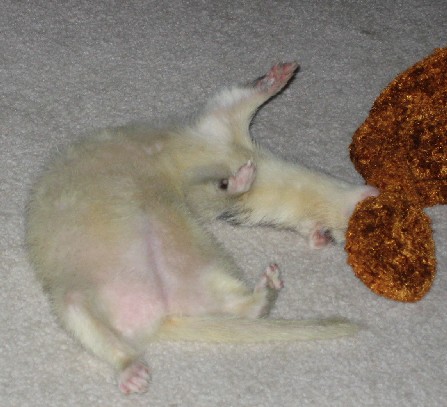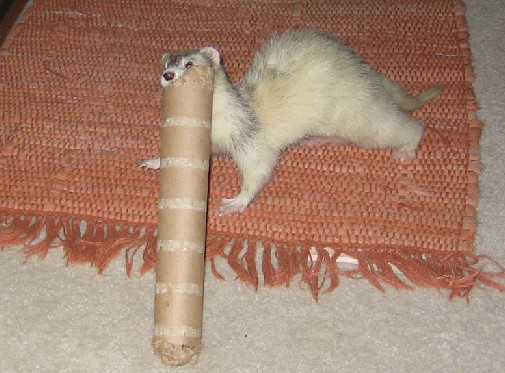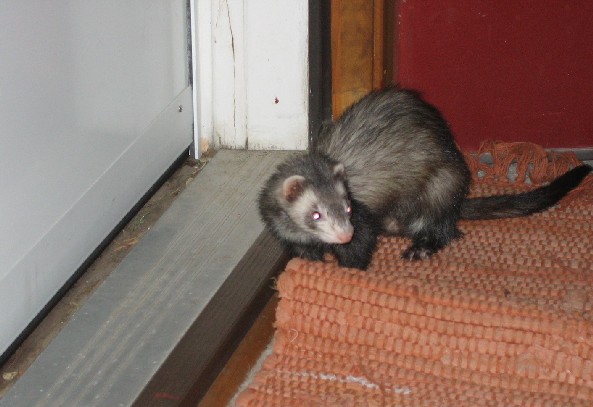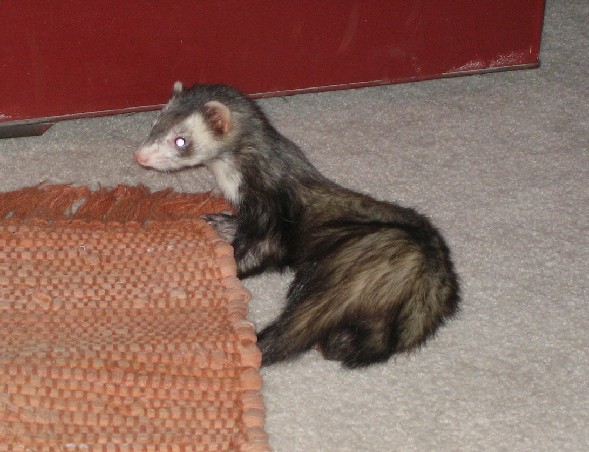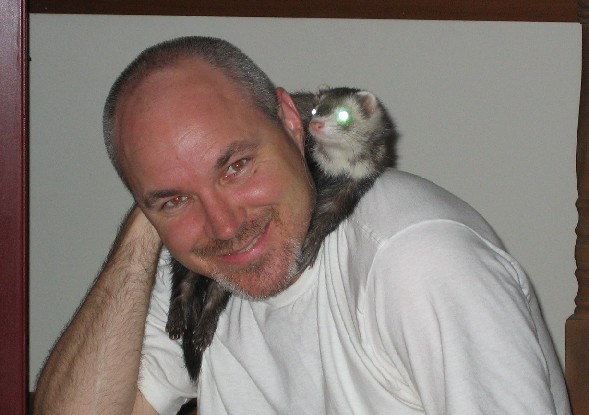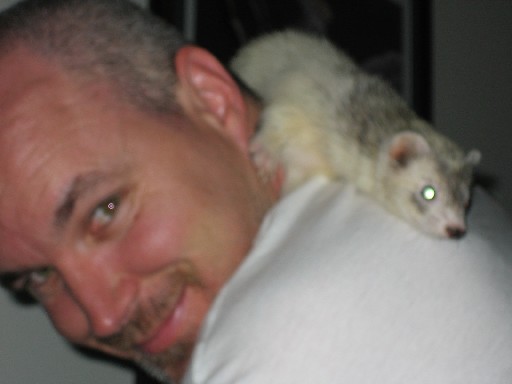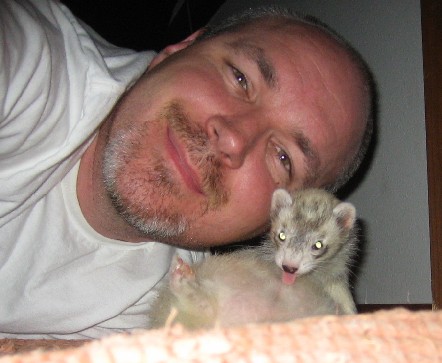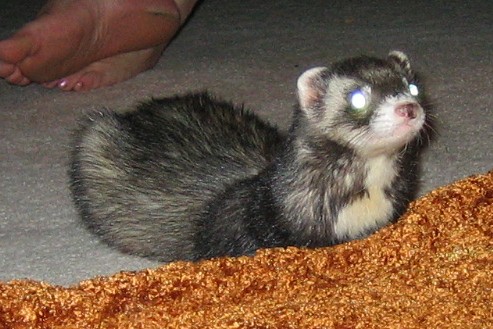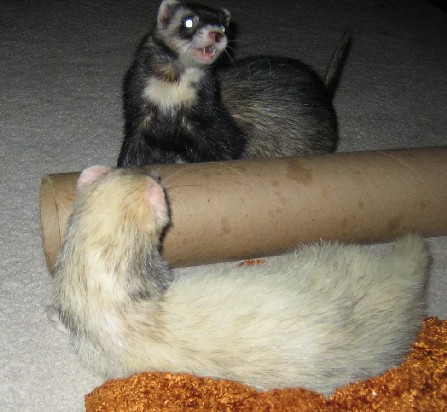 They were a blast to hang out with. Kim and Bill and Anna, too.
Tomorrow: A day of downtime and cornhole. WHAT?!