DAY FIVE

Saturday July 14
I left Portland in the morning and bade farewell to my hosts for the previous night, Sam and Fiona. When I'd been in San Jose, the Walkers had suggested I check out Multnomah Falls to the east before heading up to Seattle, and that sounded like a grand idea. I parked myself at a Starbucks (for the web access, not the coffee, and did some Google mapping and caught up on emails.)

Multnomah Falls is the second highest year-round waterfall in the United States, and flows into the Columbia River. I parked, grabbed some water bottles, and walked up to the busy entrance area. On the way, you cross a bridge for the creek created by the falls. There were tons of kids swimming and giggling and trying to catch fish (minnows I think) with their hands. When I went to snap a picture, this one boy stretched his arms out and said, "You have to put your arms out like this."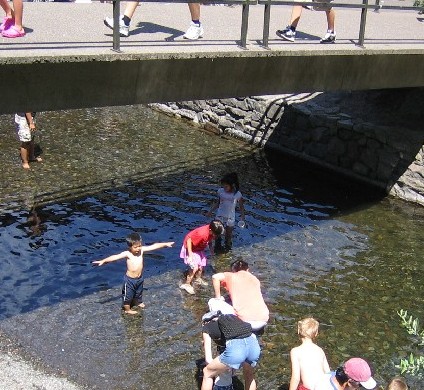 I have no idea what the boy meant by that advice he gave to others in the creek, but he surely didn't know he reminded me of Jesus in that moment. When trying to live a cross-centered life, any little thing can (and should) remind us of Our Savior's sacrifice. Even cute stuff like this kid should still reestablish the thought in our lives that we have to pick up and carry our own cross daily. He did it for us, and He won't do it again. But we have to do it every day. But He'll help us of course; we can't carry it without Him anyway.
This sign is built into a stone bench on a large lookout area where some folks rested.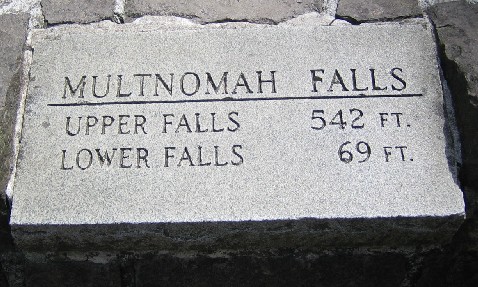 Others stood gazing up at the falls and the bridge you can cross on the way up to the top of it. I took this picture form there...I'll call it Picture A, because I'll refer back to it in a bit.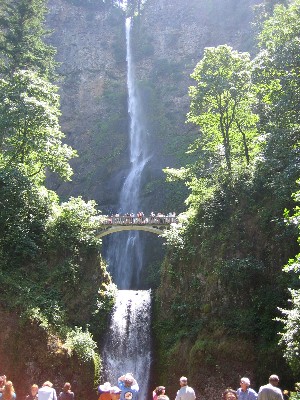 I began walking up the path to the bridge and got this shot of the lower pool the waterfall creates.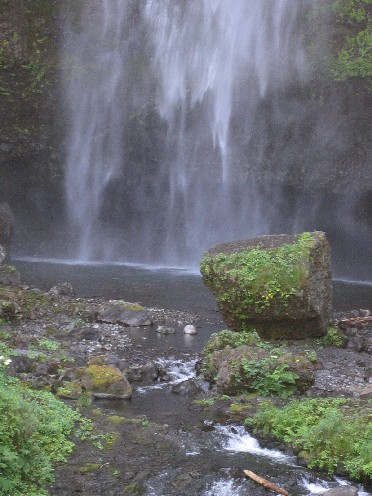 I also got this shot of the falls, with some sun glare. Maybe it's not a good picture, but I thought it was a neat effect because of the rainbow stripes.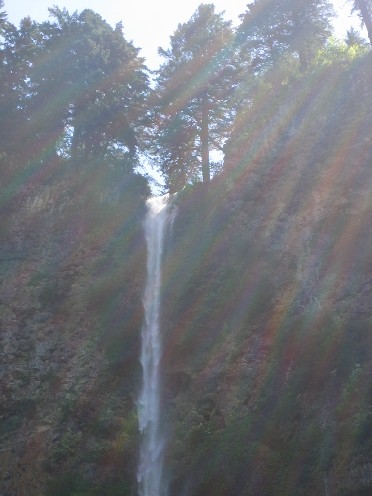 It's kind of a bummer that nature pictures don't really translate well. Trust me, it's better to be there.
From the bridge, I turned and looked back at the lookout area where I took Picture A. It's amazing how far away it looked. The lady in blue is sitting on the stone bench I mentioned. The stone sign from above is on the back of it in the middle.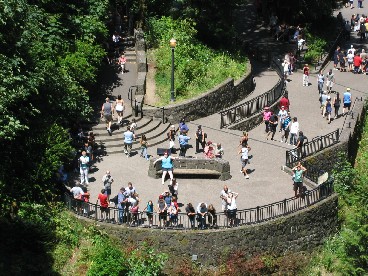 The bridge is called the Benson Bridge. I'm not sure why, I didn't do my research; but I'm fairly sure it wasn't named after the Robert Guillaume TV character. The bridge is only 0.2 miles up, but the top of the falls lookout is 1 mile up a paved path of switchbacks. It was a pretty hot day and I was glad I brought water. I'm fairly out of shape, and not used to walking up a graded incline. I got to one point where there was another path breaking off so folks could hike to other waterfalls in the area (there are many along the river). I was tired and hot and it wasn't good news.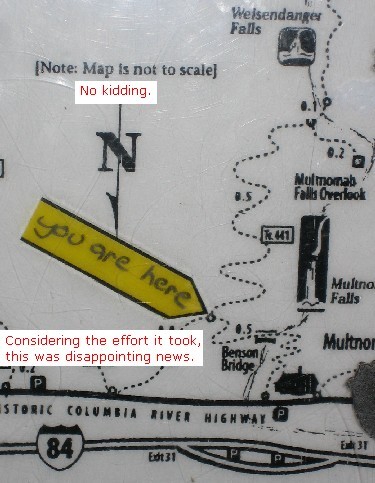 As I walked away, a few ladies were moving to check out the sign and I said to them, "That 'You Are Here' thing was VERY disappointing."
As I continued, my calves voiced some protest in my mind. "Dude, we're not used to this! It's just water falling off a cliff. Big deal! It's not worth this!" I ignored them. They are such whiners. I joked with one couple who passed me that they were hurting my self-esteem.
I won't bore you with all arguments I exchanged with my legs on the way up, but I finally made it. I wondered if the falls were actually created by the pools of sweat generated by the people who made it to the top.
Finally, I made it to the lookout, and it was awesome. And high. You can see a large part of the Columbia River basin and even the state of Washington across the way.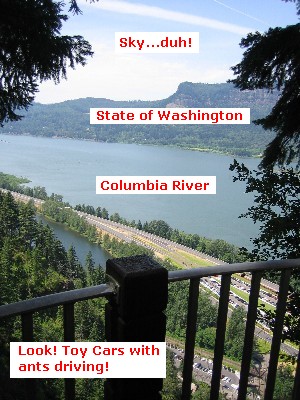 The creek that comes out of the mountain pools right before it takes the big plunge.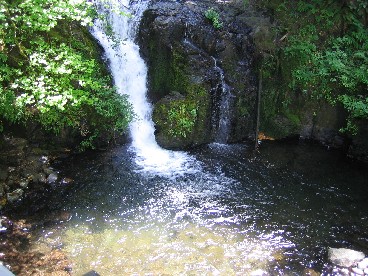 Here are a couple of shots of the water actually going over the edge. In the second one you can barely see the folks on the Benson Bridge.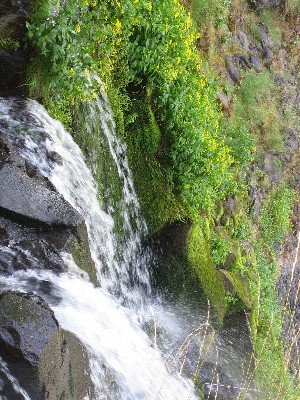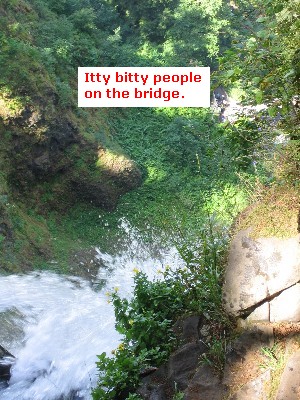 This one is about as straight down a shot as I could get without going straight down myself.
Oh yeah...remember Picture A? Here's what it looked like from the Falls Overlook: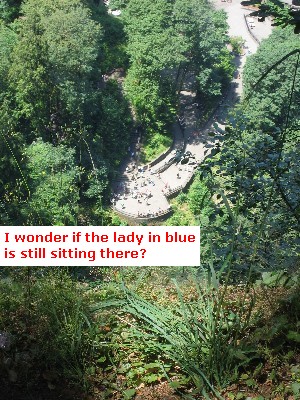 I walked back down, pretty exhausted (down is not simple either with these wussy legs). I got on the road to Seattle, but I was hungry and so because of my recent workout, treated myself to going a few miles out of my way to find a Panera Bread. They make yummy sandwiches and salads and fresh thin crust pizzas, in addition to all sorts of bakery/pastry awesomeness. But I was good: no pastries, just a delicious sandwich, potato chips, and their strong iced tea.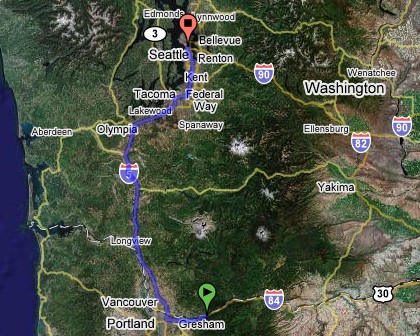 I arrived in Seattle a few hours later. Driving up the 5 in Washington was gorgeous. I recently reconnected with my first girlfriend from high school and had hoped to visit her and her husband and kids, but they expected to be out of town for a family trip that weekend. Oh well. I stayed with my friend Ryan, whom I hadn't seen in...oh, over a decade. We met through our friend Sam (Sam and Ryan grew up together in Seattle and I met Sam in college), and Ryan and I still chat online now and then. It was great to hang out with him for the weekend. We met up with another friend, Nick, for dinner and drove down to a place on Puget Sound.
Next: Sunday services with Ryan and Nick, and a day of down time in Seattle. Still to come: Weasels and Yellowstone!